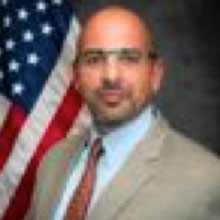 Mauricio Jimenez
is the Assistant Special Agent in Charge (ASAC) of the Drug Enforcement Administration's (DEA) Columbus District Office.
ASAC Jimenez holds a Bachelor of Science in Psychology from the Pennsylvania State University. After graduating, ASAC Jimenez enlisted in the United States Army. From 1992 to 1998, ASAC Jimenez served internationally and domestically in the Military Police Corp and as a Special Agent with the US Army Criminal Investigation Command.
In October 1998, ASAC Jimenez joined the DEA where he was eventually assigned to the Pittsburgh District Office as a Special Agent. During his tenure as a Special Agent, ASAC Jimenez directed numerous high-profile and complex investigations resulting in the complete dismantling of multiple drug trafficking organizations.
In September 2009, ASAC Jimenez was promoted to Group Supervisor. As a Group Supervisor, ASAC Jimenez led a comingled group of Special Agents and State/Local Task Force Officers targeting major drug trafficking organizations, urban organized crime networks and the most violent drug traffickers operating in Western Pennsylvania.
In November 2015, ASAC Jimenez was assigned as a Staff Coordinator to Special Operations Division (SOD) Pharmaceuticals, Chemicals and Internet Investigations Section (OSI). ASAC Jimenez was tasked to the SOD Heroin/Fentanyl Task Force where he supported investigations throughout all of DEA targeting fentanyl distributors, facilitators and manufacturers.
In September 2016, ASAC Jimenez was promoted to the ASAC of OSI. ASAC Jimenez managed a multi-agency section consisting of the DEA, Homeland Security Investigations, US Customs & Border Protection, US Postal Inspection Service, Joint Interagency Task Force West and the National Targeting Center. OSI provided operational support, case coordination and de-confliction on all domestic and foreign investigations on cyber trafficking, pre-cursor chemical and pharmaceutical investigations.
In February 2018 (to the present), ASAC Jimenez was assigned to the Columbus District Office. ASAC Jimenez's area of responsibility encompasses all of central and southern Ohio including the cities of Columbus, Cincinnati and Dayton. ASAC Jimenez oversees all investigations and enforcement actions throughout the District.